The crypto market is on the verge of a major recovery as the bulls continue to seize the market. Over the weekend, the market cap of the emerging industry has picked up, with Bitcoin leading the crypto pack. This article will highlight the best cryptocurrencies to buy for maximum returns.
1. Bitcoin (BTC)
The crypto market obeys every whims and call of Bitcoin. Bitcoin controls over 40% of the next-generation financial market and is also the most valuable, posting over $40K in the last few days.
Coming from a negligible $0.008 in 2009, Bitcoin has grown more than 9 million percent and is one of the best cryptocurrencies to buy, given its massive upside.
Bitcoin's ascent to its prime has taken twelve years, but it has all been worth it. It started its remarkable run in 2017 when it stopped just short of $20,000, trading at $19,891.
It subsequently dipped following a major market downturn and only began to receive attention as inflation figures slowly ate into returns from more traditional financial instruments, and interests in savings dipped into the negative.
In 2021, the crypto bellwether has made good on its promise of ensuring decentralized transfer of value and has spurned a whole ecosystem of decentralized solutions. Its deflationary has also attracted institutional adoption, and even El Salvador is adding it as a legal tender.
But it has not all been sun and roses for the premier virtual currency.
After plateauing at a record $65K in April, BTC has been on a freefall losing 50% in three months. It found support at $30,000 and traded below the resistance line of $35,000 for much of two months.
However, the first virtual currency is picking its feet and started August on a high note, rising 16.52% in the past week.
Analysts expect the bulls to keep control of the market, and BTC's present value of $45,806.22 is seen as a signal for more upward progress.
2. Ethereum (ETH)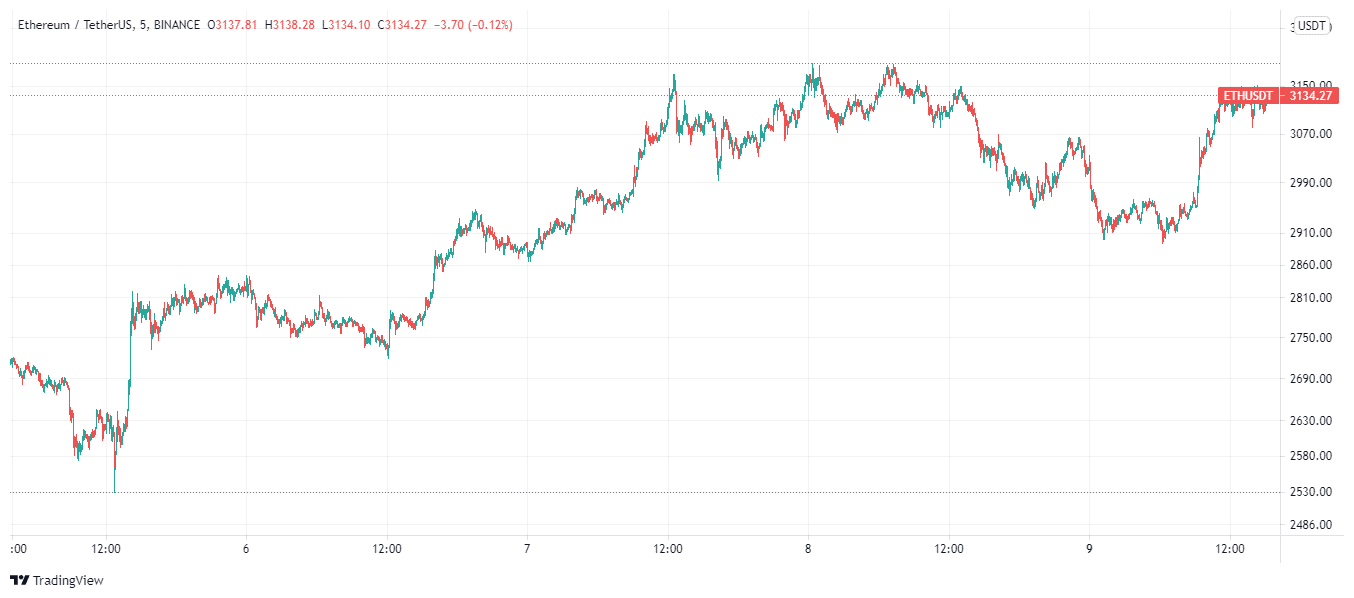 Ethereum is the next generation of blockchain technology and a top contender for the best cryptocurrencies to buy list.
Even though it plays second fiddle to Bitcoin, Ethereum is the first blockchain platform that enabled smart contracts (digital forms of agreement between two transacting parties).
This innovation has spurned a series of ground-breaking solutions; the first being decentralized applications popularly called dapps.
Decentralized finance (DeFi), which seeks to replace the traditional financial services, has also flourished, with the sub-sector having billions of dollars in total value locked (TVL).
Ethereum is gradually transitioning to a proof-of-stake (PoS) protocol, positively impacting its token value. Its recent release of the London hard fork (a set of five upgrades) has seen Ether shoot up.
This has been due to the token burning mechanism which comes with its EIP-1599. Since its launch on August 5, over $40 million worth of
ETH has been taken out of circulation, causing the token's value to rise.
ETH has increased 19.31% in the past week, moving away from its previous low of $2,500. It has increased more than 45% from its June low of $1,800.
At press time, ETH is at $3,139.01 and is up 1% on the daily chart. The network's continued march to a PoS is expected to boost its value in the long term.
3. Dogecoin (DOGE)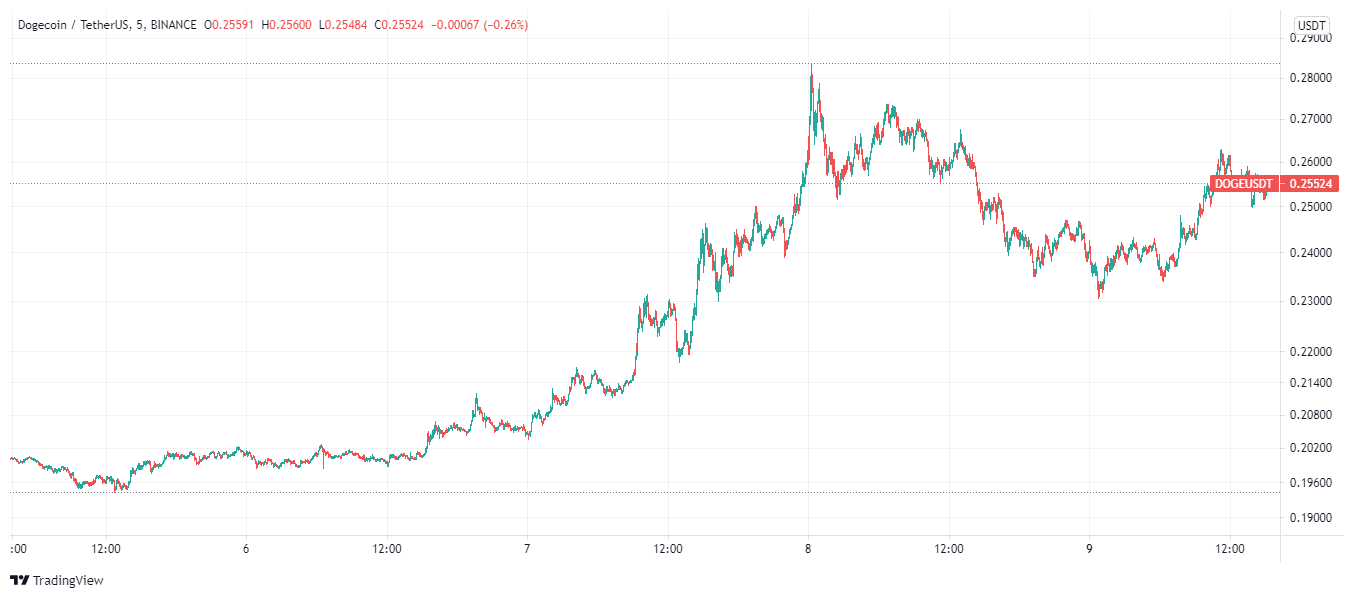 Popular among crypto investors as a joke cryptocurrency, Dogecoin has been a revelation this year. Its remarkable increase of 15,000% makes it one of the best cryptocurrencies to buy this month.
A Bitcoin knock-off, Dogecoin started as a comic take on the crypto community, given the surge in crypto protocols.
However, the dog-themed cryptocurrency has made something of itself and is now being courted by public figures like Tesla and SpaceX boss Elon Musk.
It has also become the pioneer of a new race of digital assets focused on presenting the crypto universe as a benign platform to make massive returns.
Despite its successes, Dogecoin, like all other altcoins, is tied to the hip of the Bitcoin price movement. During the massive rally of the top digital asset to $65,000 in mid-April, Dogecoin hit its all-time high of $0.74, momentarily surpassing Ford Motors and Twitter in market cap.
However, it has seen its value slashed with the broader crypto market and is only catching some tailwinds in the last couple of days.
DOGE is trading at $0.2557, down 0.06%. Its weekly surge saw 24.49%, with more upside expected as the crypto market breaks the chains of the bears.
4. Shiba Inu (SHIB)
Self-styled "Dogecoin killer" Shiba Inu is a dog-themed cryptocurrency that is out to make a name for itself. Initially launched in August 2020 by another pseudonymous character, Shiba Inu has become a much-talked-about digital asset following its remarkable run to stardom.
Its meteoric increase of 21,000% in one week makes it one of the best cryptocurrencies to buy for the long term.
Shiba Inu is slowly carving a new identity for its growing community members despite its close affiliation with the shit coins (worthless digital tokens) group of tokens.
The parody coin is developing a vibrant ecosystem where several crypto-related activities can be done.
It also recently launched its decentralized exchange (DEX) platform, enabling users to provide liquidity, earn staking rewards, and gain access to its line of non-fungible tokens (NFTs).
Trying to break from the mold, Shiba Inu has since become a well-known contender to the Parody King title and continues its ascent to blockchain prominence.
Following closely behind Dogecoin, SHIB has increased 23.66% but is briefly down by 2.39% in the last 24 hours. Its price stands at $0.000007771, and more uptrend is expected before the weekends.
5. PSG Token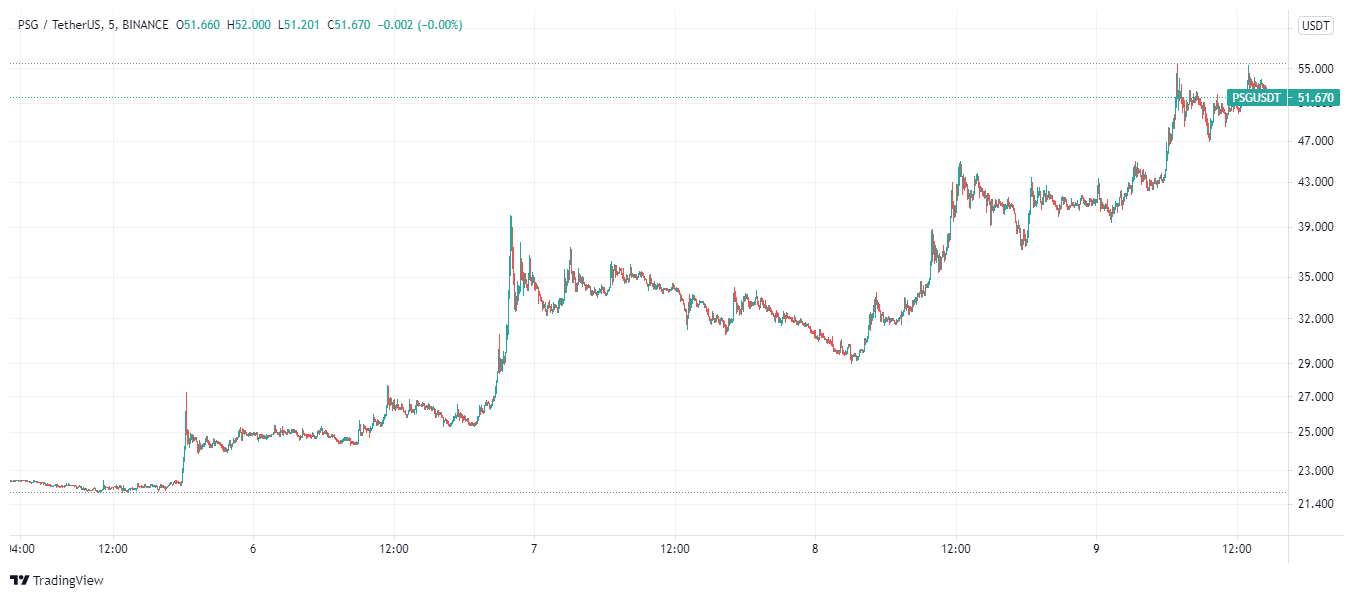 The digital representation for top-flight Ligue 1 team, Paris Saint Germain, PSG Fan Token has had an explosive weekend.
Its rise is mainly tied to the expected arrival of former FC Barcelona captain and talisman Lionel Messi.
Following reports that talks of signing the Argentine were in advanced stages, the Chiliz-backed digital asset surged 62.91% in today's opening hours. It has kept up its ascent and reached a 24-hour of $54.80.
At press time, PSG Fan Token is trading at $51.96, up 24.77% in the daily chart. This has seen it increase by $10.33 from about $43.7 after yesterday's market. This hot token is expected to make new highs once the deal is confirmed.